Non-invasive lipo, also known as non-invasive liposuction/lipolysis or non-surgical liposuction/lipolysis, refers to a variety of cosmetic procedures designed to reduce localized fat deposits in the body without the need for surgery. Traditional liposuction (or Smart Lipo) is a surgical procedure that involves making incisions and using suction to remove fat cells from specific areas of the body. Non-invasive lipo techniques aim to achieve similar results but without the need for surgical intervention, incisions, or anesthesia.
Non-invasive lipo procedures are generally considered less risky and have shorter recovery times compared to traditional liposuction. However, it's important to note that the results from non-invasive techniques might be more subtle and may require multiple sessions to achieve the desired outcome as it takes time for your body to break down and eliminate the dead fat cells. Additionally, not everyone is a suitable candidate for these procedures, and consultation with a qualified medical professional is essential to determine if a particular technique is appropriate for an individual's body type and goals.
While non-invasive lipo can be an option for those seeking to address stubborn areas of fat without surgery, it's important to manage expectations and understand that the results might vary from person to person.
Our non-surgical body contouring treatments provide solutions to tone and treat various areas of your body. The treatments coagulate subcutaneous tissue, tone muscles and address skin imperfections such as vascular lesions, spider veins, and leg veins.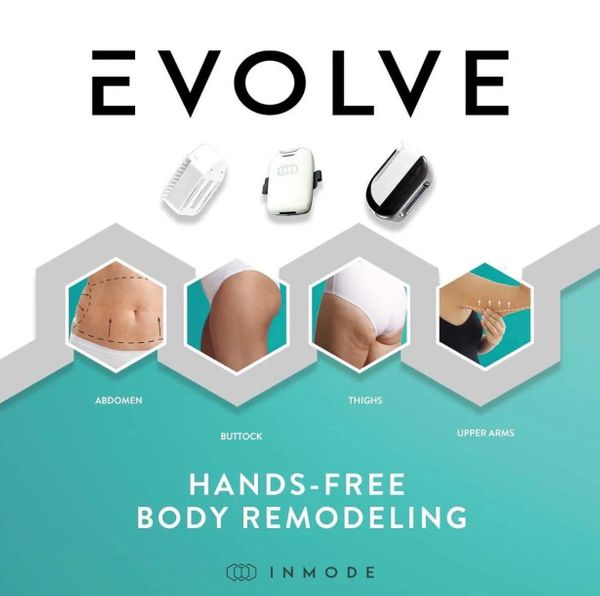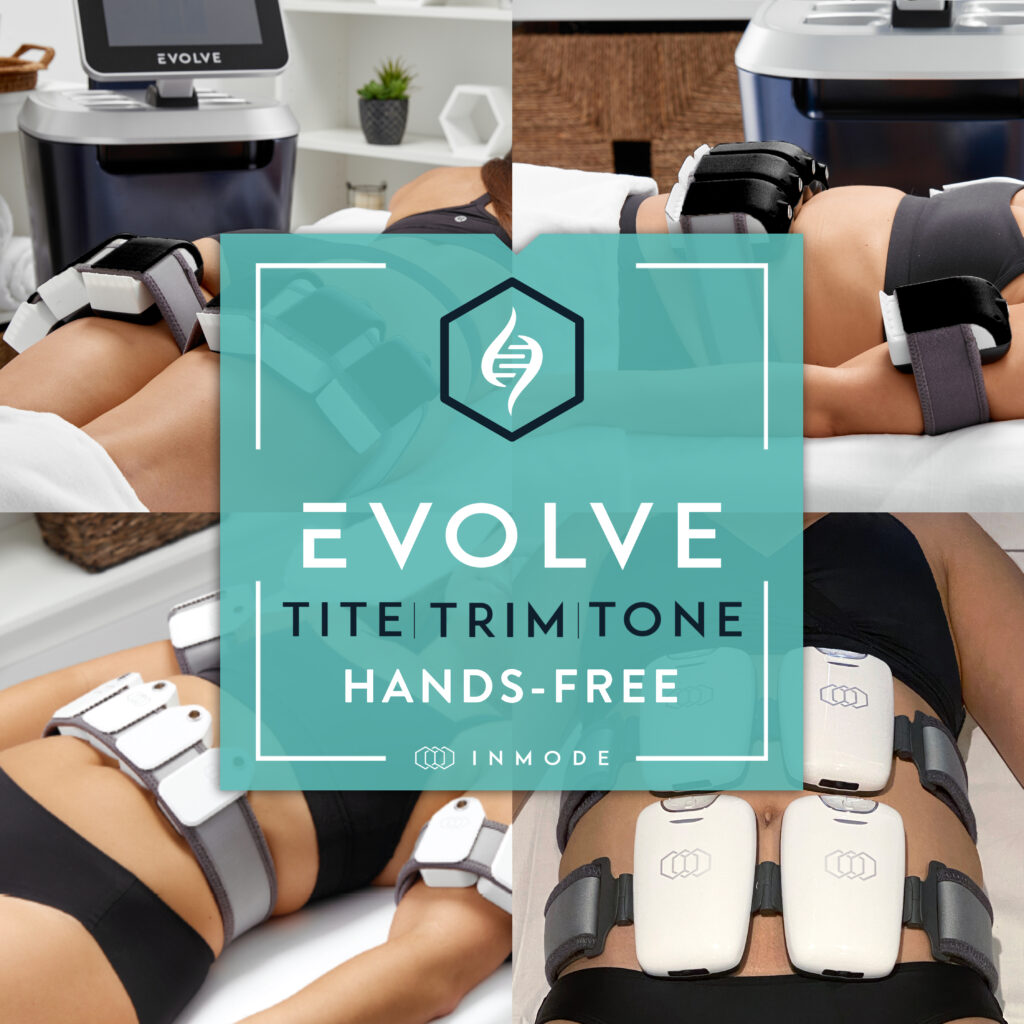 EVOLVE BY INMODE
InMode is a leading beauty company that has been creating some of the most unique and effective technologies in the industry for decades. We use 3 of their newest and most popular options, Tite, Tone and Trim to help our clients get their desired results. Learn more about the unique benefits and applications of these products below.
Evolve Tite
This tool uses RF energy to improve the appearance of your skin. By applying uniform heat to the skin and the sub-dermal layer, you can get quick and effective results on everything from small areas like the upper arm to your entire stomach.
Evolve Tone
Evolve Tone utilized electrical muscle stimulation, or EMS, to induce muscle contractions that will make your muscles more defined and strong. This is especially effective at toning muscles in the abdomen and buttocks.
Evolve Trim
This tool is InMode's response to fat and cellulite. By combining RF energy and a vacuum, this patented device can target the deepest layers of subcutaneous fat in your problem areas.
EVOKE BY INMODE
Evoke is a revolutionary, hands-free facial remodeling platform. This proprietary non-invasive technology is an industry first, delivering hands-free thermal facial and submental remodeling. The remodeling of these areas produces results that are associated with a youthful appearance. The ultimate in medical-grade technology that ensures your practice capitalizes on client demand for facial remodeling treatments.
Evoke Face
Evoke Face is the industry's first hands-free applicator designed specifically to address cheeks and jowls. The patented technology harnesses the power of RF energy to remodel facial tissue and improve its appearance.
Evoke Neck
Evoke Neck is the industry's first hands-free applicator designed specifically to address the neck and submental areas. The patented technology harnesses the power of RF energy to remodel facial tissue and improve its appearance.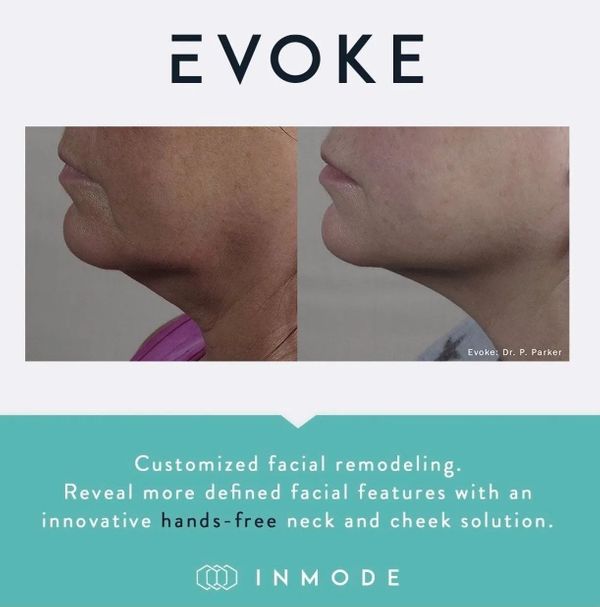 Some common techniques used in non-invasive lipo include you also may have heard of include:
Cryolipolysis (CoolSculpting): This method uses controlled cooling to target and freeze fat cells, causing them to die off. The body then naturally processes and eliminates these dead cells over time. In rare cases, instead of fat reduction, there can be an increase in fat cell volume, leading to a visible enlargement and hardening of the treated area. This is called Paradoxical Adipose Hyperplasia (PAH) and leaves patients with "a stick of butter" in the shape/size of the coolsculpting applicator. The issue is so well documented that the CoolSculpting company has had enough lawsuits to cover patients getting regular liposuction to suck out the fat clump. This along with the device not addressing skin laxity is why we do not offer the treatment in our office.
Ultrasound: Ultrasound-based techniques use high-frequency sound waves to disrupt fat cells, causing them to break down. The body's lymphatic system then eliminates the broken-down fat.
Radiofrequency (RF): RF devices use energy waves to heat the skin and underlying fat, promoting collagen production and causing fat cells to shrink. The body eventually processes and eliminates the treated fat.
Laser Lipolysis (Laser Fat Reduction): Laser energy is used to target and rupture fat cells. The liquefied fat is then either absorbed by the body or removed through the lymphatic system.
Injection Lipolysis (Kybella): This method involves injecting a specialized solution into the targeted area to break down fat cells. The solution contains a synthetic form of deoxycholic acid, a naturally occurring molecule that helps the body metabolize fat. The injections are very painful (patients describe it as fire ants biting their face) and causes major swelling in the area leading to a bullfrog appearence for up to one week. It can take 4 sessions and many patients after one or two sessions opt for traditional lipo for faster results. For these reasons we do not offer Kybella at our clinic.